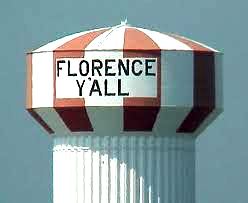 Welcome Y'ALL to the Florence Community Chat Area where you'll find lots of info about schools, parks, events, neighborhoods, businesses, people, places and so much more!

Florence, KY is located 10 miles south of Cincinnati, OH, with easy access to intersate I-75/I-71 and the Greater Cincinnati Northern KY International Airport. It is Kentucky's 8th largest city and the 2nd largest growing city in Northern Ky.
In case you are considering moving to the Northern KY area, you just might want to check out this vibrant city. You'll be secure in knowing that there is a state of the art medical facility at St. Elizabeth hospital, a whole host of parks to enjoy the outdoors (including Stringtown, Lincoln Woods, South Fork and Orleans parks), an entire shopping district on Mall Rd complete with the main anchor of Florence Mall, a hi-tech movie theater called "Rave" and a long parade of specialty shops and dining establishments throughout the city.
Just click below for more information on Florence...and don't forget to check back soon because this site will keep on growing and evolving thanks to readers like you who continue to ask me questions about all things related to Florence!
Y'all come back, you hear?

______________________________________________________________________________________________
GENERAL AREA DESCRIPTIONS
★Trivia: How big is Florence?
http://www.mileshometeam.com/Web/AR411439/Blog/post/?post_id=32905
★Welcome, Y'all, to Florence, KY
http://webhosts.ihouseelite.com/Web/AR411439/Blog/post/?post_id=41767
SCHOOLS
★Top Rated Florence Ky Schools
http://www.mileshometeam.com/Web/AR411439/Blog/post/?post_id=32955
PARKS
★Parks in Florence KY..It's about time for a nature break!
http://www.mileshometeam.com/Web/AR411439/Blog/post/?post_id=34368
NEIGHBORHOODS
RESTAURANTS
BUSINESSESS
★Animal Adoption Available Weekly in Florence Ky
http://www.mileshometeam.com/Web/AR411439/Blog/post/?post_id=33150
★Florence FunDome Takes on A Great Loss
http://www.mileshometeam.com/Web/AR411439/Blog/post/?post_id=22744
ACTIVITIES/FAIRS
OTHER