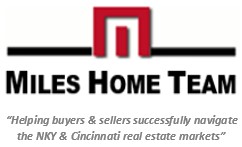 ____________________________________________________________________________________________
Cathy Miles, Realtor® 513.673.7726 Exit Realty Tri State, 7920 Dream St. Florence, KY 41042
_____________________________________________________________________________________________


H O M E I N S P E C T O R ' S L I S T
Below are listed several home inspectors for your consideration. Be sure to inquire about pricing for:
Home Inspection Termite Inspection Radon Inspection
Other additional inspections may be suitable, depending on the nature of your property, such as structural assessment, septic, HVAC, chimney, mold, etc. (The home inspector will usually point these out for you.)
The home inspector you chose will take care of setting up your inspection and obtaining permission to enter the property. It is recommended that you be present during the entire home inspection so you can find out all about your property. Payment will be expected at the end of your inspection, so be sure to have a check or cash with you.
Remember, this is YOUR home inspection. You are not required to have an inspection, but it is highly recommended so that you can obtain important information about your property and to help discover if there are issues that may be of concern to you.
Your inspector will generate an inspection summary report for you, usually within 24 hrs after the inspection. This is used to help convey any issues you may wish the seller to address before closing. If there are concerns, you must address these within the time frame of your home inspection period, as set forth in your purchase contract.
PILLAR TO POST TAYLOR MADE HOME INSPECTIONS
http://northern-kentucky.pillartopost.com http://www.taylormadeinspections.com
Terry Yeager Mike Condon
859.320.6700 859.781.7326

LEE HOME INSPECTIONS HOME TEAM INSPECTION SERVICE
http://www.leehomeinspections.com http://www.hometeaminspection.com/nky
David Lee Andy Snyder
859.760.5278 513.528.4600

AA HOME INSPECTION, LLC A BETTER HOME INSPECTOR
http://aahomeinspection.net http://ABetterInspector.net
Michael Patton Steve Wolf
859.448.0213 859.586.4945